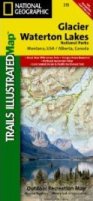 Nat Geo Trails Illustrated Map for Glacier National Park contains detailed topographic information, clearly marked trails and recreational points of interest for both Glacier and Waterton Lakes.
Welcome to HikinginGlacier.com
HikinginGlacier.com is the most comprehensive site on the internet for Glacier National Park hiking trails. We provide detailed information for more than 60 hiking trails in Glacier Park, including trail descriptions, key features, pictures, trail length, difficulty ratings, maps and elevation profiles. We also offer maps and books related to hiking, history and travel in the Glacier region at our Hiking Gear Store.
To begin your next Glacier National Park hiking adventure, simply click on one of the trail directories below:





About Glacier National Park


Known to Native Americans as the "Backbone of the World," Glacier National Park encompasses more than one million acres of some of the most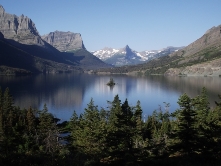 spectacular scenery on Earth. With more than 740 miles of trails meandering throughout the park, Glacier is also an absolute hiker's paradise. To learn more about hiking in Glacier and what the park has to offer, including information on hiking in grizzly bear country, a list of our top 10 hikes in Glacier National Park, as well as other hiking and travel related tips, please visit our About Glacier page.

If you're planning an overnight stay, be sure to visit our Accommodations page for a wide variety of lodging options surrounding the park.
Guide Books and Maps for Glacier National Park

Hiking Glacier and Waterton Lakes provides details for more than 60 hikes, including the best hiking seasons, color photos, directions to the trailhead, difficulty ratings, average hiking times, GPS-compatible maps, information on backcountry campgrounds and more.






Best Easy Day Hikes Glacier and Waterton Lakes contains maps and descriptions for 28 hikes. Each of the hikes are relatively short, on well-defined, easy-to-follow trails that visit some of the area's most spectacular scenery - without taking you to physical extremes.





To see all our books related to hiking, history and travel in Glacier National Park, and the surrounding region, please visit out Hiking Book Store.